Best Movers and Packers in Sharjah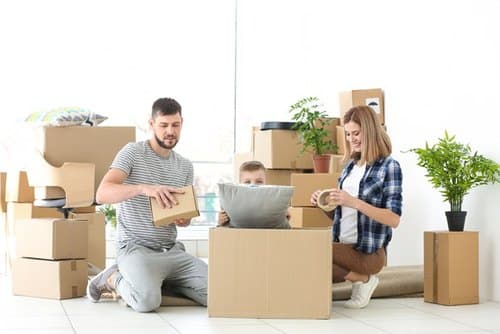 Movers and Packers in Sharjah
Here's Why You Should Hire the Best Movers and Packers in Sharjah
Nowadays, relocating to a new city or location is a frequent activity. People move from one place to another due to multiple reasons such as seeking employment or for education. Moving your belongings from one location to another is not only time-consuming but also physically exhausting.
If you're relocating from one city to another, you're probably aware of the amount of work involved in packing, loading, and transferring your belongings. As a result, it is usually preferable to engage a reputable and experienced transportation company that can properly handle all of your moving needs. Packers and movers in Sharjah understand that all of your belongings are priceless to you and that you cannot afford even a minor blemish. 
Advantages of Hiring the Best Movers and Packers in Sharjah
It is always a good idea to employ professional movers and packers. Doing this allows you to delegate all moving-related work to the benefits of hiring movers and packers in the UAE.
1. Providing You With Insurance and Claims
It is very important to know all the terms and conditions related to the process, especially the insurance terms. All items that professional relocating agencies move are covered by transit insurance. It is the most important benefit of hiring movers and packers. You may rest easy knowing that your priceless possessions are protected.
You can completely utilise the insurance against your items if there is damage caused by human error while loading or unloading or during transit. Without a doubt, movers and packers can assist you with the moving as it covers several insurances, sometimes for the full value or for the declared value, whatever you opt for.
2. Secure and Efficient Packing Service
There are numerous advantages to hiring the most efficient packers and movers in town. It is the packing for the relocation, rather than the actual move, that can take the wind out of you and your family. Your furniture, appliances, decorative items, and other valuables will be protected and packed secure if you use a packer and mover service.
Have you ever wondered why different transportation firms charge varying pricing for the same amount of items to be transported? This is due to the entire quality of the service they will provide. The best moving and packing companies opt for high-quality packing materials and employ numerous layers to keep your belongings safe throughout shipment. With the best packing, you won't have to worry about getting your goods broken or damaged on the way. 
3. Stress-free Relocation For You
Another significant benefit of hiring packers and movers is that it relieves you of the burden of responsibilities. it transfers the burden of hard labour to the professionals. With their expertise and prior knowledge, they will move your goods from the house or villa to the final destination and all you need to do is monitor.
Effortless packing and moving will save you days, if not weeks, of time spent packing and carrying your belongings. If you're relocating inside the same city, you may simply need a few hours off to oversee the procedure. You can afford to relax on the day of the relocation and not worry about the protection of your valuables. You can specify a date that will allow you to finish preparing your new home before the truck carrying all of your belongings arrives.
4. Speedy Shifting Process
Due to everyone's hectic schedules, time is the most crucial aspect of the entire moving procedure. You might not always get time to plan in prior or have enough time to properly organise the activities. To ease that up, once hired, professional movers and packers always arrive on time and the agreed-upon date and hour. There are so many activities involved in moving, such as safely putting everything into boxes, and loading those same boxes into trucks.
The last steps involve unloading and unpacking each box once it arrives at its destination. And even if not, in the beginning, you might not have enough time to unload and unpack into your new home and that's where their end activities come in handy. The expert packers and movers in Sharjah will handle all of your responsibilities like their own and lets you handle your professional or personal life without any gap. 
5. Cost-effective Choice

If you compare the expenses of moving yourself against hiring a packer and mover, you will find that employing a packer and mover service is less expensive. You'll have to spend a lot of time alone packing all of your belongings which can be a little stressful for some people.
Services offered by moving companies include transportation, packing and documentation. If you make a rough comparison, stand-alone transportation (trucking agencies) might quote higher rates and documentation can be tricky along the process. Hence it's always wiser to delegate and take a back seat.
A packing and moving service, on the other hand, places an upper hand as they have all the allied services along with their functioning. They will also have connections and agreements with the associated people, giving you an edge on the service as well as the rates. 
Make a Smart Move and Hire Packers and Movers
Without a doubt, making use of movers and packers can only have pros over cons if you compare all the possible factors. However, it is also critical to select the best moving and packing service in Sharjah.
Before selecting the appropriate transporter, conduct a thorough study on them. Talk to your friends or family or ask around for the best agencies around you and compare all the features and quotes before you make a final decision.
Choose one with the best rates and best service and make sure they have a good track record of happy and satisfied customers. Movers and packers are the answer to all your packing needs, providing clients with the best solutions based on their demands.